Soehnle Page Aqua Proof can be cleaned without any problems even under running water
Kitchen scales with a dishwasher guarantee
Germany's Number 1 kitchen scales started the new year with a strong product innovation. Under the name Page Aqua Proof, Soehnle is bringing the first kitchen scales on the market, which have a patented, waterproof housing. Thanks to this, it can be put in the dishwasher without hesitation or simply cleaned under running water. Its "dishwasher safety" has been confirmed by TÜV Rheinland with a certificate. The new kitchen scales have a large LCD display and operating is made easy with the patented Sensor Touch.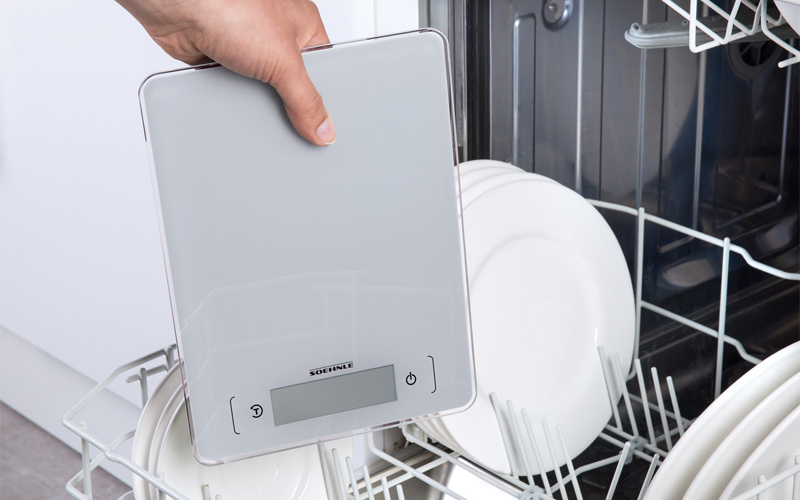 The Soehnle Page Aqua Proof has the most important features which consumers want from kitchen scales. According to a market analysis by the Monheimer Institute, buyers of kitchen scales place value inter alia on good readability (90%) and simple cleaning (87%). Besides these criteria, the dishwasher safescales from Soehnle have much more to offer: Ingredients can be weighed up to 10 kg. The weighing surface of 18 x 25 cm allows you to weigh large bowls and pots without any problems.
Soehnle is supporting the introduction of the new scales with displays, special shelf presentations, online communication and PR measures.
Technical specifications of the Page Aqua Proof kitchen scales
Easy, thorough and time-saving cleaning of the scales in the dishwasher (certified by TÜV Rheinland) or under running water
10 kg load capacity
Also suitable for large pots and bowls thanks to the large weighing surface (18 x 25 cm)
Ease of operation with the patented Sensor Touch function
High-quality, extra clear safety glass
2-year guarantee
Kitchen scales Page Aqua Proof (Art. No.: 66225, UVP: € 59.99), available from April 2018
Leifheit AG
Barbara Horn
Public Relations
j pr(at)leifheit.com
f +49 (0) 26 04 – 977 395
‍Agency contact
P.U.N.K.T. PR GmbH
Benjamin Kolthoff
Völckersstraße 44
22765 Hamburg
j info(at)punkt-pr.de
f +49 (0) 40 – 85 37 60 0