About us
For more than 60 years we are one of the leading European brand suppliers of household items.
The Leifheit Group divides its operating business into the Household, Wellbeing and Private Label segments. Leifheit and Soehnle products – two of Germany's best-known brands – are known for high quality and great utility for consumers. Its French subsidiaries Birambeau and Herby are also active in the service-oriented Private Label segment with a selected product range.
In each segment, the company focuses on its core areas of expertise in the product categories of cleaning, laundry care, kitchen goods and wellbeing. The Leifheit Group employs some 1,100 people and operates 14 locations and branches of its own around the world.
Our Brands
Our Scaling up Success strategy centres around the further expansion of our strategic core business involving the Household and Wellbeing segments. Through the significant strengthening of consumer advertising, we intend to systematically develop the Leifheit and Soehnle brands, enhance their profiles and strengthen their competitive positions.
For more than 60 years Leifheit is one of the leading European brand suppliers of household items. The Leifheit brand offers clever solutions that allow work to be performed more easily, regardless of whether this involves drying laundry, ironing, cleaning or working in the kitchen: meaningful, well-conceived high quality products, which work effectively. With their modern, timeless design, the practical 'helpers' by Leifheit fit perfectly into every household.

Ever since it was first founded in 1868, the Soehnle brand has focused on pronounced ease of use, innovative technology, superb quality and outstanding design. Today, more than 150 years later, Soehnle is among the leading providers of bathroom and kitchen scales in Europe. The brand's strength is precise measuring, weighing and analysis, which is what Soehnle exemplifies with its claim "Passion for precision". From scales and blood pressure gauges to new product categories such as air treatment and the innovative Soehnle Connect app, Soehnle has been drawing on its brand expertise for over 150 years to help people stay in shape and live healthier – consciously!
Leifheit Group
Household & Wellbeing
High-quality brand products with a high degree of consumer benefit in the medium to upper price segment
Consistent brand management
Systematic processes for innovation and market launch
Distribution in international markets
Product categories: Cleaning, Laundry Care, Kitchen, Wellbeing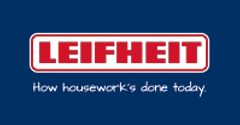 Private Label
Primarily private-label products in the medium price segment
Focus on individual customers and markets
Strong service component
Product categories: Laundry Care and Kitchen Goods